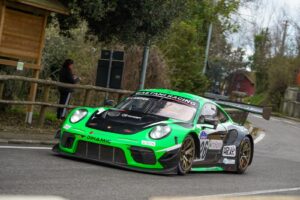 Luca Gaetani from Italy exploring Europe in a Porsche Luca Gaetani from northern Italy has already raced twice at Uphöfener Berg in a Ferrari. This year he has switched to a Porsche 911 GT3 R in collaboration with the Dinamic Motorsport team. This car means a lot to him: "It is a dream car that reminds me of my childhood and connects me to the memory of my father, who passed away in September." Luca's father Bruno, a keen motorsport fan and autocross driver, passed on his passion for motorsport to his son. Luca plans to compete in the entire 2023 FIA European Hill Climb Championship. In preparation for the season, he achieved a very promising victory in the Touring Car category at the 2nd Trofeo Coppa del Consumo in Tuscany and should be well equipped for the European Championship races. Luca is also planning to take part in the Int. 55th Hill Climb Race Osnabrück on the 5th and 6th of August. He and his team fondly recall the "intense and exciting" days they had at their previous two races at Uphöfener Berg.
L'Italien Luca Gaetani en tournée européenne avec sa Porsche Luca Gaetani, originaire du nord de l'Italie, a déjà brillé à deux reprises à l'Uphöfener Berg au volant d'une Ferrari. Cette année, il a opté pour une Porsche 911 GT3 R en collaboration avec l'équipe Dinamic Motorsport. Cette voiture représente beaucoup pour lui : "Une voiture de rêve qui me rappelle mon enfance et qui me relie à la mémoire de mon père, décédé en septembre dernier." Son père Bruno, passionné de sport automobile et pilote d'autocross, a transmis à son fils sa passion pour le sport automobile. Luca prévoit de participer à l'ensemble du championnat européen de course de côte en 2023. En préparation de la saison, il a remporté une victoire très prometteuse dans la catégorie des voitures de tourisme lors du 2e Trofeo Coppa del Consumo en Toscane. Il devrait donc être bien équipé pour les épreuves du championnat européen. Luca prévoit également de participer à la 55e Course de côte Int. d'Osnabrück les 5 et 6 août. Son équipe et lui se souviennent avec grand plaisir des "journées intenses et passionnantes" qu'ils ont vécues lors de leurs deux précédentes participations à l'Uphöfener Berg.
Auch das 55. Int. Osnabrücker Bergrennen am 5./6. August steht fest in seinem Kalender. Sein Team und er erinnern sich mit großer Freude an die "intensiven und spannenden Tage", die sie bei ihren bisherigen beiden Auftritten am Uphöfener Berg erlebt haben.